I am fascinated by maps and I always have been. But especially Ordnance Survey (OS) maps.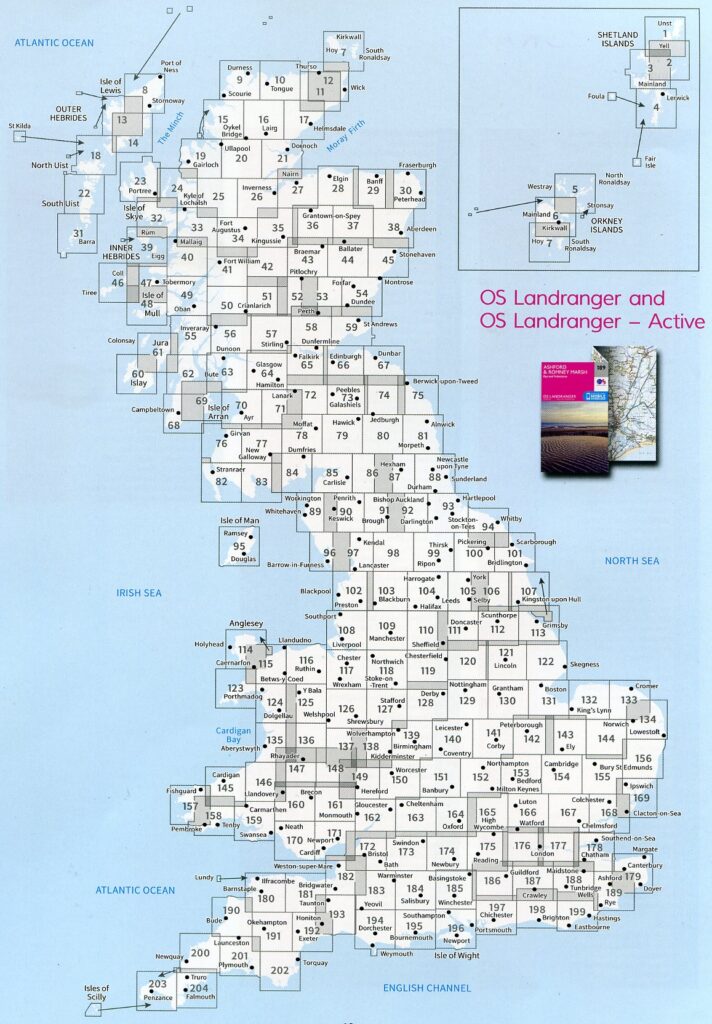 The promise of something new and undiscovered
Throughout my 54 years, I have stared for countless hours at OS maps in my own growing collection, and (perhaps a little jealously) in other peoples' homes or shops. I have pored over maps I have been on, and those I have not, often imagining new journeys or re-living old ones.
They have always seemed more interesting to me than books, describing – without words – the real world around me. They brought it to life in vivid detail, fired my imagination, and always held the promise of something new and undiscovered in this fascinating and varied island where I was born. Slowly, over many years, I collected or inherited about half of the 1:50,000 scale OS maps of Great Britain – the ones with the pink covers (known today as the Landranger series) that made perfect companions for my cycling adventures.
The idea is conceived
Each map is 40km wide by 40km deep, and there are 204 of them that cover the whole of England, Wales, Scotland and the Isle of Man. Some of them overlap; others stand proudly alone. I would often treat myself to a new one (or more) to accompany a holiday or a cycling adventure. But only if I was actually going there.
Then, a few months ago, in mid-2021, I came across an old OS marketing freebie I picked up years ago from a bookshop, decided to keep, and then forgot all about! It is a very simple outline map of Great Britain with all 204 of the different 1:50000 OS maps overlaid as numbered squares. A kind of poster-sized version of the back cover of every Landranger map.
Unfolding this map of maps, unseen for perhaps 20 years, I first started to wonder which of the 204 squares I had never been on. Then I wondered how many of them I had already cycled on; perhaps half of the full set of 204, I reckoned, since this was about the number I owned.
Then I took proper notice for the first time of the numbering system used by the OS for its coverage of the country – and there it was: my adventure!
Sweeping majestic rows
Map 1 is at the top of the Shetlands. Maps 2 to 7 move down NE to SW across the Shetland and Orkney Islands, until the British mainland is reached. Then all of the remaining 197 maps sweep in majestic rows – 26 of them – across the country from West to East until reaching the bottom right corner of Cornwall (Truro and Falmouth) at map 204.
Why had I never noticed this before? Before me lay 2 remote archipelagos and 26 enticing and pre-defined coast-to-coast journeys of varying length, the longest spanning fully 13 maps, and the shortest (and last) just two. And all just waiting to be explored. In numerical order. By bicycle!
How far?
A rough calculation of 204 multiplied by 40km told me that it would not be a short journey even for a flying crow. Rounding up for wobbly lines by a rough factor of 50% and converting to miles told me that riding across all of the maps, in order, was likely to be a journey of perhaps 7,000 miles.
Which, I told myself, would fit nicely into the best six cycling months of weather and glorious long days that the UK can offer. Probably. And I would have a prevailing westerly wind helping me sail through the whole country all the way. Hopefully.
Practicalities
Of course there would be many practicalities to overcome. I would need to get back to the start of each subsequent coast-to-coast with my bike somehow (I'm not proposing to ride all the way back again each time! That would be silly). And I would need places to stay. I might need to establish some "rules" for myself that I would try to stay faithful to. And I would certainly want to see my wife and grown-up children at reasonably regular intervals along the way. And honour a few commitments I had already made, such as my band playing for two weddings in July (plus rehearsals).
But that could all be worked out during the winter. What was important now was that I had conceived the perfect "staycation" pandemic adventure for 2022. Since I had nothing better planned, and the twin gifts of time and good health, I felt duty bound to start planning!